Blog
Mijoshop Extended Support
If you are a fan of Joomla since version 1.5 to present; then you recognized MijoShop Component; an Opencart integrated to Joomla. But if you search this item in the Joomla forum and in extension it is not listed anymore and deleted.
For us, it was a good eCommerce platform but the support was depreciated. You can still purchase the extension but the support is very limited. We are not sure what was happening on Miwisoft; Before you continue reading this article; Please be reminded that we are not affiliated to Miwisoft/Mijoshop nor endorsed.
How to increase your Joomla website speed
So, The next question in your mind is how to make it fast loading without affecting your design and functionality? With this question in mind you are now wondering how and searching tools over the web about the speed score or grade you got.
Most common tool that is used by web developers is the GTMetrix. Before you continue reading this I would like to add some disclaimer that we are not affiliated nor endorsed by GTMetrix.
We will guide you how to make a website with no coding required in 5 minutes
Do you want to have a website with shopping capabilities? Yes; this is called an eCommerce website and we will show you how to do it and no coding required.
To have your own website you need to have the following prerequisite requirements.
1. Domain name - This is the name of your website example www.wedevlops.com
2. Hosting company - This is where you saved the files to run your website if you do not have your owned server.
Both requirements are needed to have a website. Both of these prerequisite requirements we also offer. For more information on this please drop us an email.
For the start of the year 2021; we add a new mode of payment and now accept bitcoin payment. If you notice in our own shopping cart we add a new mode of payment which we accept bitcoin if you purchase our extensions and if you plan to have a website project and paying a bitcoin is now accepted at wedevlops.com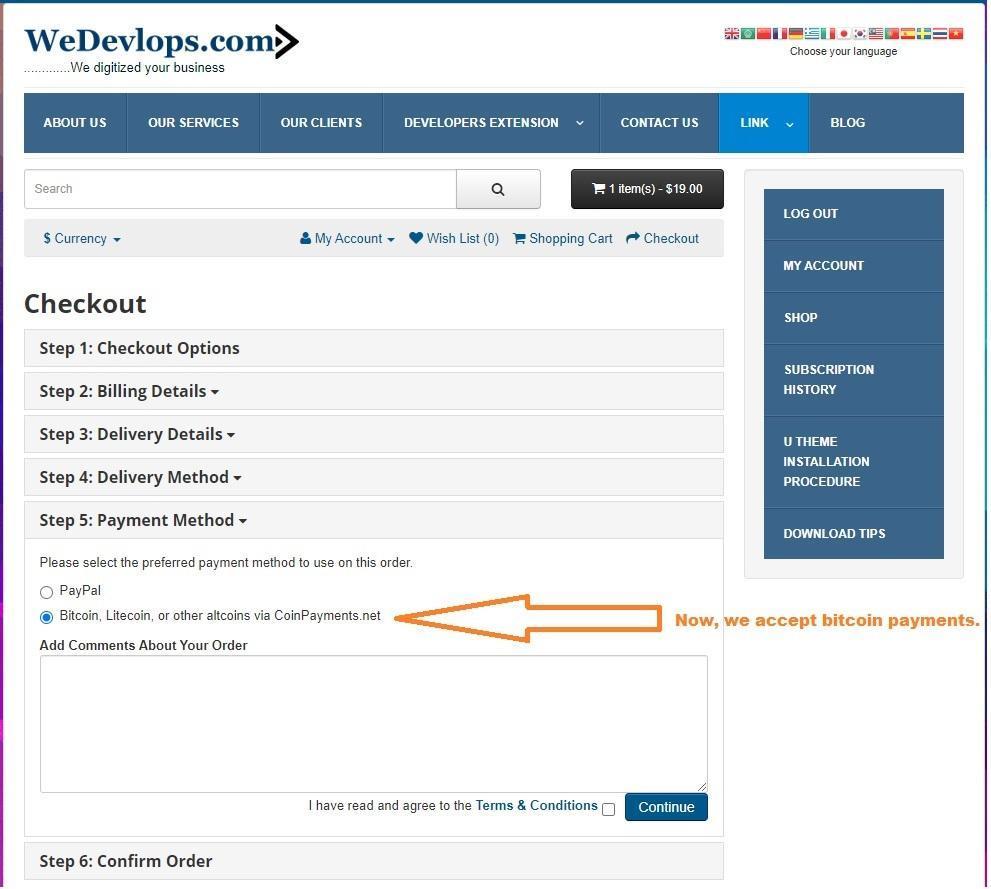 If you have a project that you plan to add a bitcoin payment just contact us and we can also help you implement on this project.
If you have a mijoshop extension we also support you if you plan to add anymode of payment you think that is beneficiary in your business needs.
Simply email us or visit our contact us page and we will help you in your project.
Our ecommerce platform comes with full features including affiliate programs. If you plan to have this kind of affiliate in your website you can consult us; Simply visit our contact page and you see a lot of options on how to reach us.
So, how does the affiliate work or used? How to use the URL on their websites or blogs or forums?
Login to the frontend as a customer or affiliate then go to the "My Account" and click "Custom Affiliate Tracking Code", you will see the tracking code, tracking link generator and tracking link. It is a unique tracking code for every user. click here to
register.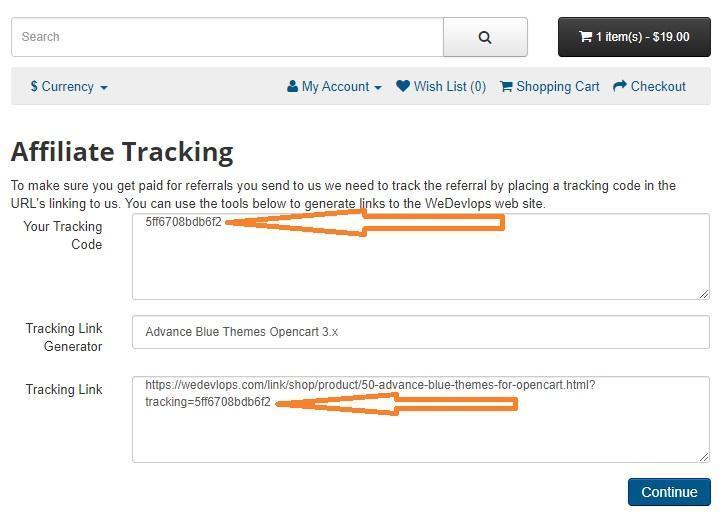 Don't change the tracking code as this is unique for you and if you change then the old URL will not work. Then in the tracking link generator enter the product name that you want to link, it will autocomplete your product, select it and the Tracking link is showing which is the link that you will use in the websites or blogs or forums.
Now that you have an idea how it will work. Please continue reading this article as is time to give some credit to our valued clients.
We have activated our affiliate program and you can track your commission in live transactions. Our commission rate is 0.5% this means if your tracking code completes the transaction then you earn as well.
Let's put an example to make everything clear; if you sell worth $100 then you have a commission of $0.5; not bad right. all you have to do is make a blog and share.
Each user has their own real time dashboard which you can track the transaction and your commission.
Now that you know how it works you are free to Join and start earning money!
Enjoy sharing and together we earn money.
**Note: we released the money if you comision reached to $100